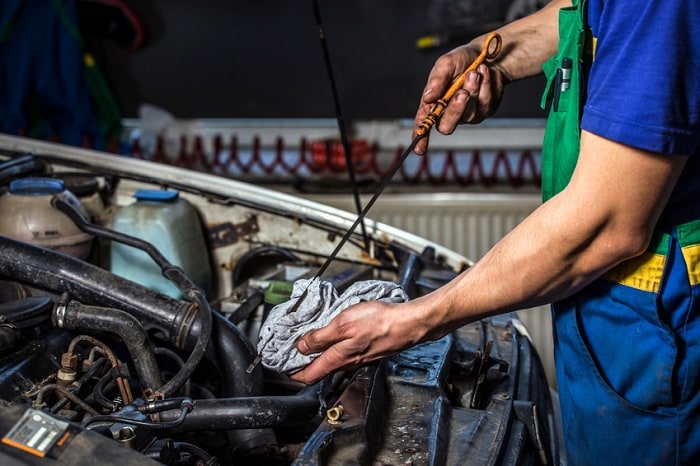 Vehicle maintenance is an important aspect of car ownership that drivers often overlook. So, when it's time for your car to get an oil change, bring it to a Jeep® dealership near me. For drivers who live in Kimball, MN, A.M. Maus and Son Chrysler Dodge Jeep RAM is your service destination. Our dealership has an onsite service center staffed with only the most knowledgeable and experienced technicians. We also serve the nearby communities of Buffalo and Hutchinson, MN. Unsure if a simple oil change is necessary? Here are the top four benefits to regular oil changes:
1. By regularly changing your car's oil, you can extend the life and longevity of your vehicle's engine. If dirty oil is circulating in your car's engine for too long, serious wear and tear can occur, often leading to leaks. This, in turn, will leave you with costly repair bills and a non-functioning car.
2. Another reason why oil changes are so crucial is car performance. When your car is running on fresh, clean oil you'll notice a big difference in terms of fuel efficiency. Over time, this can lead to big savings at the pump.
3. Most drivers don't realize, that routine oil changes have an impact on your car warranty. Many manufacturers now require that you follow some type of maintenance plan for them to cover the costs of repair bills.
4. The only way to ensure your engine is healthy and reliable is to bring your car in from time to time for an oil change. This gives technicians an opportunity to inspect the inner workings of your engine and look for any extensive damage or signs of trouble.
When it's time to bring your new Jeep Cherokee in for an oil change, stop by A.M. Maus and Son Chrysler Dodge Jeep RAM in Kimball, MN. Our Jeep service center can handle all your repair and maintenance needs.