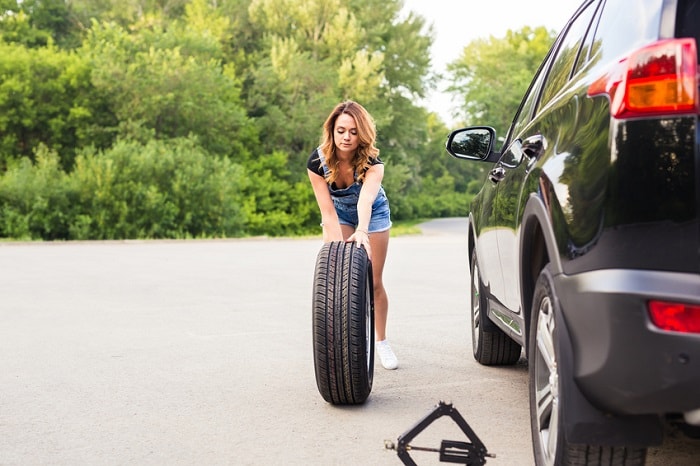 If you're looking for a Jeep®, Dodge, RAM, or Chrysler dealership that is committed to customer satisfaction, look no further than A.M. Maus and Son. At A.M. Maus and Son we pride ourselves on meeting all of our customer's unique automotive needs. In pursuit of that effort, we are always excited to share our vast wealth of automotive knowledge with our customers.
Of all the practical how-to topics we discuss with our customers, we believe that changing a flat tire is one of the most important. Our vehicles rely on sturdy, functional tires, but flat tires can happen to even the most careful driver. Through wear and tear and the occasional roadside obstacle, your tires can experience a blowout or leak. Fortunately, we're here to fill you in on what you can do to change out a flat and keep on rolling.
For starters, you'll want to keep some crucial pieces of equipment in your vehicle, which include a car jack, a wrench, an air compressor, and an air pressure gauge. With your car pulled over in a safe area, lift the car using the jack so that the flat is about 6 inches off of the ground. Using the wrench, loosen the lug nuts from your flat tire and then remove it from the axle. Once the flat is removed, check the air pressure in your spare. If your spare tire's air pressure levels are below the recommended, you can use the air compressor to bring it back to normal. Using the wrench, secure the spare tire onto the axle using the previous lug nuts. While you may now have four working tires on your car, the job is not quite finished.
After you've blown out a tire, you should seek out a skilled and equipped Jeep, Dodge, RAM, and Chrysler service team in order to get your tire repaired or replaced with a new one. Spare tires are not built to be driven on for an extended period of time. If you live in the Kimball, MN area, you can come in to A.M. Maus and Son. Our team of mechanical experts will inspect your car from trunk to hood to ensure everything is in working order and set you up with a new tire. We carry many different brands and types of tires, and will have you back on the road in no time.